Ghana is gradually being exposed as country with dimwitted leadership. It appears the fundamentals that can empower the average Ghanaian to live a dignified life has been thrown to the gallows. Politicians who generally hold majority of the decision-making power continue their pillage through all sorts of dubious means. By the day, panelists on radio shows, government officials opposition politicians bamboozle the entire nation with all sorts of grammar and technical jargons that have no effect on the development of Ghana. It's as if, Ghanaians are only pawns for the businessmen turned politicians leading this country.
So much talk, yet so little work. So much promised, yet, so little delivered. It's even murkier when one considers the sleek and brilliant talk of opposition politicians until they become the ruling government. It's as if politicians leave their brains behind when the people give them a nod
A social media post by daughter of ace Ghanaian Journalist Kwesi Pratt, Maame Ama Pratt futher exposes the deceitful and uncaring attitude of successive governments, including the current. A first hand experience, the journalist and tv personality who visited the Northern parts of Ghana as part as part of her work with Pan African TV, had the shock of her life when she visited Naa'gbongu Primary School in Nalerigu…
Below is her post.
"SINCE BEING IN THE NORTH FROM FRIDAY, I'VE TRIED TO HAVE A "WHOLESOME" EXPERIENCE!
BEEN TO THE BURKINA FASO BORDER TO EXPERIENCE FIRST HAND, THE COLONIAL MASTER'S INSENSITIVITY AND RECKLESSNESS IN THE CREATION OF THESE ARTIFICIAL BORDERS WHICH DO NOT SERVE OUR CONTINENT AT ALL.

BEEN TO THE PAGA CROCODILE POND FOR THE ADVENTURE AND EXCITEMENT OUR TOURIST ATTRACTION SITES OFFER AND LIKE EVERYONE ELSE, LEFT WONDERING WHY WE DON'T DO SO MUCH MORE WITH THE VERY PROMISING PLACE.
BEEN TO SOME HOSPITALS (STORY FOR ANOTHER TIME)..
BEEN TO THE NAADZARIGA WALL FOR THE CULTURAL AND SPIRITUAL RELEVANCE.
BEEN TO THE DAMS, THE RIVERS – WHERE OUR PEOPLE STILL FETCH WATER AND WASH THEIR CLOTHES…
BEEN TO SOME PALACES AND MET THE AWESOME'EST "WOMAN CHIEF" IN SAMENE WHO I FIND JUST TOO IMPRESSIVE FOR HOLDING HER OWN IN A MALE DOMINATED POSITION AND ALSO BECAUSE SHE WATCHES MY SHOW!
WAS AT THE DAMBA FESTIVAL TO EXPERIENCE OUR RICH CULTURE DISPLAYED THROUGH SKILLFUL DRUMMING AND DANCING. I WON'T LIE, THE GUN SHOTS FROM THE WARRIOR DANCERS WERE SOMEWHAT UNNERVING BUT IT CERTAINLY ADDED TO THE THRILL
OF ALL OF THESE EXPERIENCES AND SO MUCH MORE, NOTHING MOVED ME LIKE WALKING INTO THE CLASSROOMS OF NAA'GBONGU PRIMARY SCHOOL IN NALERIGU THIS MORNING! NO FURNITURE! FOR PUPILS AND FOR TEACHERS. NOOO FURNITURE! THESE CHILDREN SIT ON THE FLOOR. THE TEACHERS STAND. NO WATER, NO WASHROOMS, NO SCHOOL FEEDING! TODAY, 11TH NOVEMBER 2019.
NOW HERE'S WHAT ACTUALLY GOT ME – IT WAS EXPLAINED TO ME THAT SCHOOL FEEDING WAS FOR THE LESS PRIVILEGED SCHOOLS AND SINCE THIS SCHOOL WAS NOT LESS PRIVILEGED, THEY DIDN'T GET IT! IN OTHER WORDS, THERE ARE SCHOOLS THAT HAVE WORSE CONDITIONS THAN THIS ONE! NO WORDS!

HONESTLY, SERIOUSLY, WE NEED TO DO BETTER!!! HOW IS THIS AN EDUCATION? WHERE ARE OUR PRIORITIES?
WE ARE BUSY WITH GRANDIOSE ACTIVITIES IN THE EDUCATIONAL SECTOR LIKE CHANGING THE SYLLABLES, WHEN THERE ARE NO MATERIALS FOR THE TEACHERS TO USE, RENAMING "STAGES" … GHANA IS FOR ALL OF US! ALL OF US!! WE FAIL OURSELVES IF WE CONTINUE TO REFUSE TO ACT! "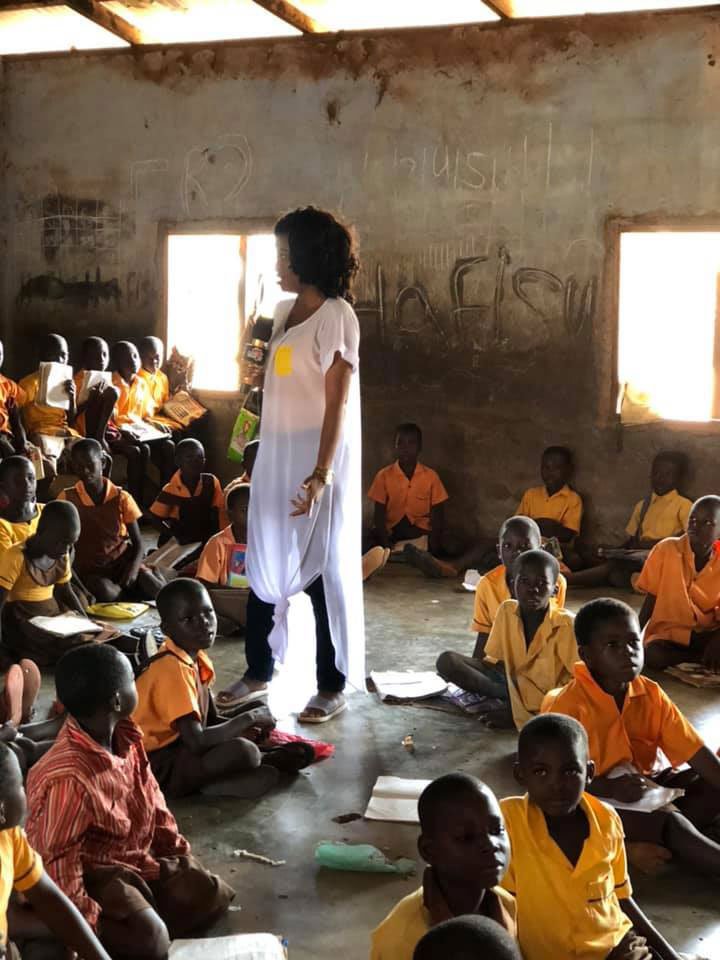 It's disheartening that after 62years of independence Ghana has allowed the ruling class to make fools of the citizenry, an uprising is eminent; the kind that would afford development oriented persons to takeover the helm of affairs in Ghana; not through violence, but through local-level community sensitization methods. There is the need to expose the true nature of Ghanaian politicians and the government.